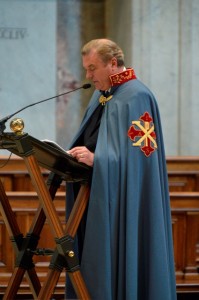 During the Holy Mass in the Saint Peter Basilica on May 14 2016, during the International Pilgrimage of the Constantinian Order of Saint George, His Royal Highness Prince Charles of Bourbon Two Sicilies, Duke of Castro, Head of the Royal House, accepting the invitation of His Eminence the Cardinal Renato Raffaele Martino to speak, makes public his decision to change the rules of succession which have thus far been in force in the House of Bourbon Two Sicilies in order to make them compatible with international and European law, which prohibits any discrimination between men and women, not only in the enjoyment of their rights and freedoms but also in the exercise of public office of any kind.
The rule of absolute primogeniture will henceforth apply to his direct descendants.
His Royal Highness the Duke of Castro, in front of over one thousand knights and dames, said: (full speech in italian)
Desidero ringraziare Sua Santità Papa Francesco che ci ha donato questo Anno Santo straordinario della misericordia e per la speciale indulgenza plenaria che ha benevolmente concesso ai partecipanti al nostro pellegrinaggio.
Uno speciale ringraziamento a Sua Eminenza il Cardinale Angelo Comastri, che ci accoglie nella Basilica di San Pietro.
Un grazie dal profondo del mio cuore a Sua Eminenza il Cardinale Renato Raffaele Martino per la sua guida e per le sue parole che ci sono di aiuto, conforto e incoraggiamento.
Grazie Eminenza per il sacramento della Confermazione che conferirà alle mie amatissime figlie, Maria Carolina e Maria Chiara; sono certo che non potranno mai dimenticare questo momento così speciale e le saranno sempre affezionate e riconoscenti.
Grazie anche a tutti voi pellegrini, sacerdoti e laici che avete condiviso questa importante esperienza di fede.
Watch previews, find out ways to watch, go behind the scenes, and more of got season 7 episode 2 of the SHOWTIME Original Series Shameless.
Oggi le mie figlie riceveranno la confermazione; ciò costituisce un passaggio decisivo per la vita di ogni cristiano che comporta una grande presa di responsabilità in ordine alla propria Fede e alla Chiesa.
Inoltre desidero comunicare, come Capo della Real Casa, la mia decisione di affidare in particolare a Maria Carolina e a Maria Chiara anche la grande responsabilità per l'avvenire della nostra casata, nei suoi diritti e anche nei suoi doveri.
Lo Spirito Santo che oggi invochiamo apra i cuori e le menti di tutti noi alla sua azione affinché possiamo sempre sperimentare nella vita la gioia dell'essere figli di Dio.
> It is possible to download here Act or Rome (in Italian)