HRH Prince Ranieri, Duke of Castro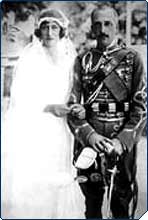 Prince Ranieri, Duke of Castro, (de jure, Ranieri I) became universally known as Head of the Royal Family and Grand Master of the dynastic Orders of Knighthood in 1960 following the death of his brother, Prince Ferdinando Pio. Prince Ranieri took the title of Duke of Castro, which is usually afforded to the head of the family. Born in Cannes, France, on 3 December 1883, he too served in the Royal Spanish Army and in 1923 he married his cousin Countess Carolina Zamoyska-Bourbon Two Sicilies.
During his life he generously supported many charity associations and in 1962 Prince Ranieri presided over the reburial of the corpses of Royal Family members who died in exile, to the Church of Santa Chiara in Naples.