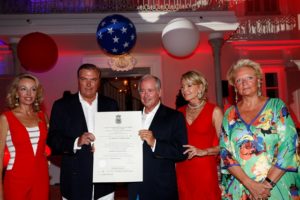 Monday, 31 July 2017. H.R.H. Prince Charles of Bourbon Two Sicilies, Duke of Castro and Grand Master of the Dynastic Orders has conferred the honor of Knight Grand Cross of the Royal Order of Francis I upon Mr. Steven Schwartzman for his commendable contributions to culture through a targeted philanthropic activity, including the restoration of the New York Public Library in 2007 and the recent expansion of the Campus of Yale University.
The Royal Order of Francis I is granted to individuals who have distinguished themselves in the sciences, arts and diplomacy and does not assume the exclusively Catholic features of the Sacred Military Constantinian Order of St. George.
Among the many Knights and Dames of the Order there are 14 Heads of State and numerous Cardinals, in addition to the Archbishop of Canterbury, Baroness Margaret Thatcher, H.E. Ban Ki Moon, David Rockefeller and three winners of the Nobel Peace Prize: Rigoberta Menchù, H.E. the former President of Costa Rica Oscar Sanchez and Archbishop Desmond Tutu.