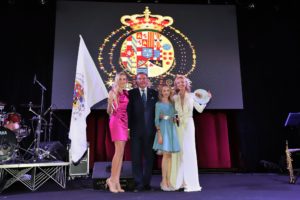 Rome, November 5th 2018 –
TRH Prince Charles and Princess Camilla of Bourbon Two Sicilies' official visit to Naples has ended today. Their Royal Highnesses, Duke and Duchess of Castro, accompanied by TRH Princesses Maria Carolina, Duchess of Calabria and Palermo and Maria Chiara, Duchess of Noto and Capri, were in Naples to celebrate their 20th wedding anniversary and 25 years of activity of the Neo-Bourbon Movement, engaged by a quarter of the century to defend the identity values of Southern Italy.
"
We have chosen to celebrate our anniversary in Naples with so many events also aimed at reviving the glorious memory of one of the largest cities in Europe, thanks to the works created by my ancestors
" declared HRH the Duke of Castro. "
We came back to this city that we always have in our hearts and that we feel our home because of its splendor, as for the beauty of the people who live it and animate it with pride
". The agenda was full of institutional and social commitments that confirm the Royal Family's attention towards the Neapolitan territory. On November 3rd, the Royal Family went to the Mediterranean Theater, where the Award "TWO SICILIES – SOUTH EXCELLENCES" took place.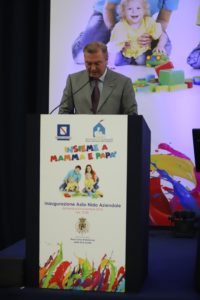 On Sunday morning Their Royal Highnesses went to the Cardarelli Hospital for the opening of "Insieme a mamma e papà" space, which will be used for welcoming not only the patients' children, but also those of the hospital staff. After attending the inauguration of the nativity scene of the church of San Ferdinando, they attended the evening Mass at the church of San Francesco di Paola, where they met the delegates of the Sacred Military Constantinian Order of Saint Georges.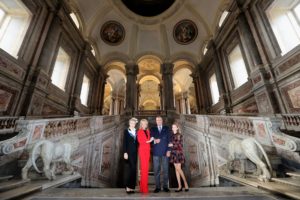 On Monday morning TRH visited the historic Marinella atelier, official supplier of the Royal House, which offered a unique scarf to the Dukes of Castro. Later they went to the Royal Palace of Caserta to seal their union and
planted a Camelia honoring the family tradition: in 1818, in fact, Queen Maria Carolina of Bourbon paid homage to the Dukes of Castro's twentieth anniversary of marriage with the same gesture.