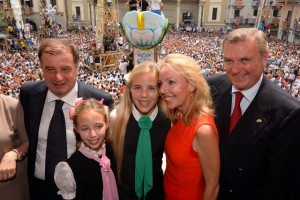 Nola and Naples, 26 and 27 June 2016 – Prince Charles of Bourbon Two Sicilies, Duke of Castro and Grand Master of the Royal House of Bourbon was in Campania for two days of tradition, quality, royal sites and scholarships for the young of the South. The Duke and Duchess, with H.R.H. Princess Maria Carolina of Bourbon Two Sicilies, Duchess of Calabria, H.R.H. Maria Chiara of Bourbon Two Sicilies, Duchess of Capri and H.R.H. Princess Beatrice of Bourbon Two Sicilies, were greeted with great affection in the lands of the Former Kingdom of the Two Sicilies during two days dense with significance.
SUNDAY 26 June, 10:30 – The Royal family was in Nola for the famous Festival of the Lilies (a UNESCO world heritage site since 2013) at the invitation of the Mayor of Nola, Avv. Geremia Biancardi and the Bishop of Nola, H.E. Mons. Beniamino Depalma. The popular festivities of the city of San Paolino took place in accordance with the Christian tradition that united the rulers of the Bourbon Dynasty to the people of the Two Sicilies. With the birth of the autonomous Kingdom of Naples, Charles of Bourbon sojourned in Nola in 1735 during his voyage to Palermo for his coronation. After 281 years a Bourbon of the Two Sicilies returns to Nola.
Sunday, 26 June, 20:00 – Prince Charles and Princess Camilla of Bourbon, together with their daughters Maria Carolina, Duchess of Calabria and Maria Chiara, Duchess of Capri, visited the splendid Casina Vanvitelliana on Lake Fusaro in Naples, an ancient and prestigious Bourbon site that has hosted numerous emperors and musicians of international renown (from Mozart to Rossini). During a dramatic guided tour by candlelight, accompanied by musicians from the orchestra of the San Carlo Theatre, local authorities presented their Royal Highnesses with the symbolic gift of the keys to the "Casina" to commemorate their "return" to the Phlegrean city.
Monday, 27 June, 10:30 – Their Royal Highnesses enjoyed a private tour of the Museum of the Treasure of San Gennaro on Via Duomo, in the historical center of Naples.
On the occasion of the 300th anniversary of the birth of Charles of Bourbon (1716-2016), the Duke of Castro sponsored the granting of several scholarships to high schools and universities of the South to carry out research on the history of the Two Sicilies during this important time of rediscovery and dissemination of the many historical truths that have for far too long been cancelled from official histories.