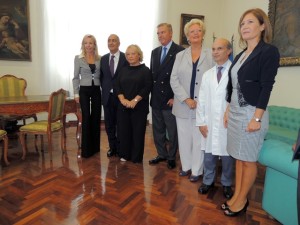 Their Royal Highnesses Charles and Camilla of Bourbon Two Sicilies, the Duke and Duchess of Castro, together with H.R.H. Beatrice of Bourbon Two Sicilies visited the Cardarelli Hospital in Naples
They were welcomed by the Director General of the Hospital Ing.Happy New Year Ciro Verdoliva, directors Franco Paradiso and Anna Iervolino and a large delegation of doctors and nurses.
The Director General illustrated the excellent services that have always been provided (since 1942) by the Cardarelli, the largest hospital in southern Italy and that the nursing staff highlighted by greeting the royal family attired in the original historic uniform of the Cardarelli medical staff.
The Princes then visited several units of the Hospital, including Hematology, directed by Dr. Felicetto Ferrara, and the Oncology Department, directed by Giacomo Carteni. Both departments are representative of the excellence of the Campania Public Health System.
ShowBox APK says "Introduce Failed Invalid APK"This has regularly been accounted for of BlueStacks download apk The individuals who have introduced the emulator as of late are more averse to have an issue
It was during this visit that Her Royal Highness Princess Camilla announced that this year she is the patroness of the Quality Health Care Award and that she intended to dedicate an award to the young medical talents of Naples by granting a scholarship to the best medical school graduate of the south for academic year 2016-2017.
This decision by Her Royal Highness Princess Camilla of Bourbon Two Sicilies pays homage to the many achievements that have distinguished Neapolitan medicine in Europe, starting with the free medical care that was initiated in Italy by His Majesty King Ferdinand IV when he founded the colony of Sangmail login Leucio.