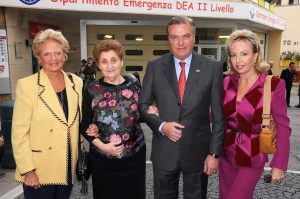 Rome, April 12th 2018. TRH Princes Charles and Camilla of Bourbon Two Sicilies, Duke and Duchess of Castro, with HRH Princess Beatrice of Bourbon Two Sicilies, Grand Prefect of the Constantinian Order, signed a memorandum of understanding with Bambino Gesù Onlus Foundation. Each year, children coming from more than 40 countries are cured at the Hospital. Some of them do not have any healthcare cover and need immediate treatments, which are very expensive. Their countries of origin are Ucraine, Moldavia, Albania, enin, Etiopia, Siria, Kenya, Egitto, Bielorussia, Algeria, Kossovo, Palestina, Nigeria, Somalia Egitto, Costa d' Avorio, Somalia, Israele, Marocco and Nepal. Urgencies and help requests are increasing more and more. The Sacred Military Constantinian Order of St. Georges, with Bambino Gesù Foundation, is involved in the support of this social project, taking care and treating the young patients.
Dr. Mariella Enoc, President of the Bambino Gesù Foundation, Dr. Cynthia Russo, Press Office and Communication Director and Prof. Federico Vigevano, Neuroscience Department Director attended the event.
You can find HERE HRH Princess Camilla of Bourbon Two Sicilies' speech.