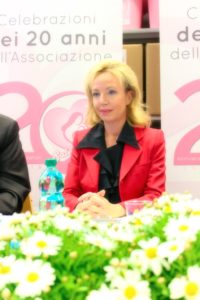 New York, September 23rd, 2018 – HRH Princess Camilla of Bourbon Two Sicilies, welcomed by Ms. Michelle Ranelli, Program Director and Ms. Rachel Goldsmith, Associate Vice President of DV Shelters, visited the young women housed at the Lang House Shelter in New York.
The initiative is part of HRH' defense project for all women who have been victim of violence. Princess Camilla had the opportunity to meet many women with their children, talking with them about their personal history. Many of them have a traumatic past and are assisted daily by the center.
At the end of the meeting, the Duchess of Castro offered small gifts to these abused women, who were very excited for the occasion.
These were really touching moments for Princess Camilla as well, who is constantly on her way to support the weakest and most disadvantaged women.