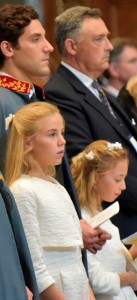 On May 14, 2016, a holy mass was celebrated by His Most Reverend Eminence Cardinal Renato Raffaele Martino during the Second International Pilgrimage at the Altar of the Basilica of St. Peter.
During the solemn ceremony Their Royal Highnesses, Princess Maria Carolina and Princess Maria Chiara of Bourbon Two Sicilies, received the Sacrament of Confirmation in the presence of almost a thousand knights and dames of the Dynastic Orders of the House of Bourbon Two Sicilies.
The godfathers for Their Royal Highnesses were His Imperial Highness Prince Napoléon Bonaparte for Princess Maria Carolina and His Imperial and Royal Highness Archduke Martino d'Asburgo-Este for Princess Maria Chiara.
> During the Ceremony, His Eminence Cardinal Martino invited H.R.H. the Duke of Castro to speak. Following is an excerpt from His comments:
Download UC Browser for Windows now from Softonic: 100% safe and virus free. More than 189893 downloads this month. UC Browser for windows pc speed beyond your imagenation. Enjoy The fast download experience on UC Browser.Best Free Download PC UC Browser on UC Browser
[…] I should like to express my sincere gratitude to His Eminence Cardinal Renato Raffaele Martino for his guidance and for his words of comfort and encouragement. Thank you Your Eminence for the sacrament of Confirmation you are conferring upon my beloved daughters Maria Carolina and Maria Chiara. I am certain that they will never forget this special moment and will always feel close and grateful to you.
My thanks also to all the pilgrims, priests and lay persons who have shared in this important experience of faith. Today my daughters will receive confirmation, this is a decisive passage in the life of every Christian and signifies a great assumption of responsibility in respect of one's Faith and the Church […].
.