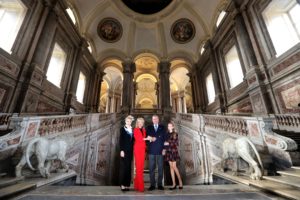 The history of the city of Caserta, as well as that of many other cities in Southern Italy, is closely related to the Royal Family of Bourbon Two Sicilies' history. The most famous and important proof of Caserta is, undoubtedly, the gorgeous Royal Palace of Caserta, built by the will of the King of Naples, Charles of Bourbon, ancestor of HRH Prince Charles of Bourbon Two Sicilies, Duke of Castro and Head of the Royal House, who often returns to those places that he loves very much, accompanied by his family.
The Royal Palace, declared a World Heritage Site by UNESCO in 1997, is an extraordinary triumph of the Italian Baroque and the largest royal residence in the world. The ambitious project was entrusted to the architect Luigi Vanvitelli, who imagined an ideal fusion among those that at that time were considered the most beautiful residences, the Palace of Versailles and the Royal Palace of Madrid. The result was extraordinary, with nothing to envy to the examples on which it was inspired.
However, much of the charm that the Royal Palace of Caserta exerts on its public is due to the monumental park that surrounds it. An area of 120 hectares with grass, flowerbeds with flowers, but also pools, fountains and scenic waterfalls, which offer very attractive water games to each visitor. HRH Princess Camilla of Bourbon Two Sicilies, Duchess of Castro and HRH Prince Charles' wife, particularly loves the park especially in the spring, when the scent of flowers accompanies those who walk in its boulevards, and has declared it several times.