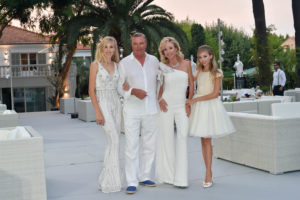 Held at the Château Saint-Tropez, a private summer villa owned by TRH Princes Charles and Camilla of Bourbon Two-Sicilies, an exclusive evening, "A Midsummer Night's Dream" attended by more than 300 guests, featured an elegant cocktail party followed by an intimate seated dinner. In a nod to Chopard's involvement with the event, diamonds and long-standing white dress code were required and underlined the theme of the event: an unforgettable and romantic summer night.
Several distinguished guests attended, including Joan Collins, the Casiraghi family, Abramovich and Naomi Campbell.
During the evening, the models paraded wearing the latest Chopard Haute Joaillerie creations. TRH' eldest daughter, HRH Princess Maria Carolina of Bourbon Two Sicilies, aged fifteen, made her debut with a magnificent Chopard creation, in the beautiful setting of the Château, where water games and sparkling lights enchanted guests.
DJ Jack-E, of Caves du Roy fame, launched the after-dinner festivities, with the cast of Dancing with the Stars, special guests of Princess Camilla, inviting everyone present to join them on the dance floor.
"I am particularly happy to have opened the doors of the Château Saint-Tropez to Chopard and to have hosted this prestigious event we celebrated the summer with" stated HRH Princess Camilla. "We choose to add value to Chopard, not only for its ability to combine the legacy of its own brand with respect for traditions but without renouncing to contemporary creativity, but also because we share with the company the essential values of our family such as ethics, the attention to social development, the protection of children and the protection of the environment".
For the occasion, H.R.H. Princess Camilla wore a dress signed Georges Chakra and Chopard jewelry.